Book Donation Bonanza: Free PD Books for Schools!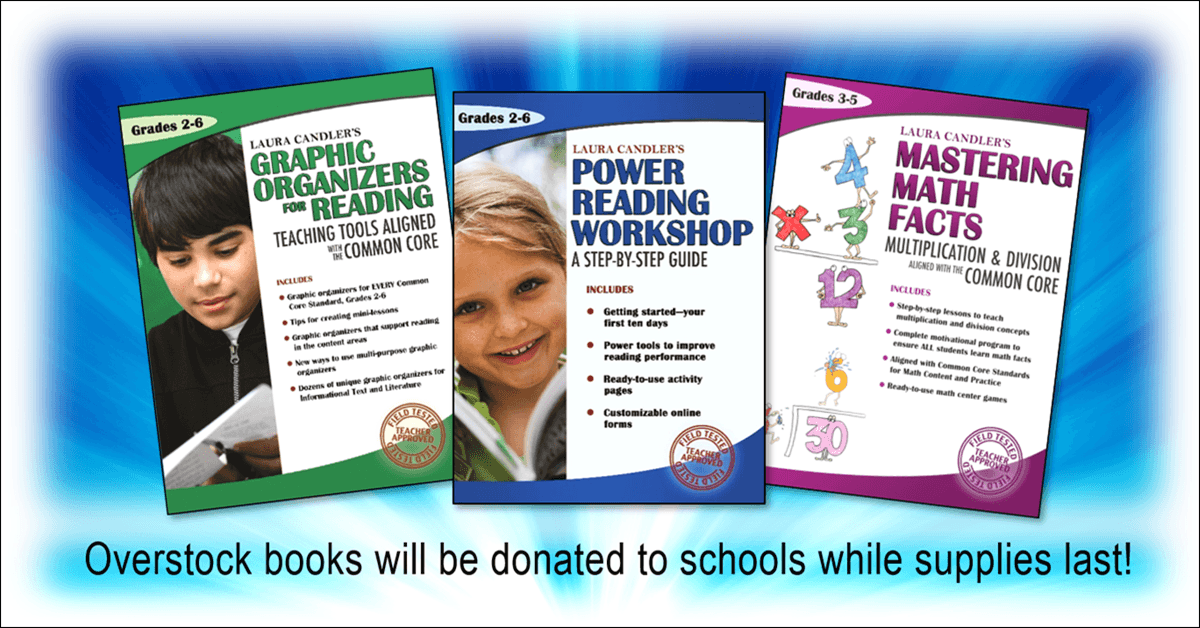 The publishing world keeps changing, and sometimes those changes happen so fast we don't see them coming. That's exactly what happened to my publisher, and it's why we're donating thousands of my books to schools over the next few weeks! The print versions of these books are listed at $24.95 each on Amazon, and the digital versions are $14.95 in my TpT store. But from now through June 25th, we're going to give them away by the carton!
To make a long story short, changes in printing technology resulted in an overstock of Power Reading Workshop, Graphic Organizers for Reading, and Mastering Math Facts. Hundreds of these paperback books are taking up space in a storage facility, and I was informed a few weeks ago that  any books remaining at the end of June will have to be discarded.
I would much rather give these books away than throw them away, so I asked the publishers if we could donate them to schools instead. They supported the plan but requested that shipping costs be paid by the school or district receiving the donation.
Book Donation Bonanza Details
We've been running the Book Donation Bonanza for several weeks now, and there are no more copies of Graphic Organizers for Reading. However, we do have quite a few cases of Power Reading Workshop and Mastering Math Facts left. Read the full details of this offer below and then submit your donation request no later than June 25th.
Requests for book donations may be made by schools, school districts, or educational institutions, including colleges or universities with teacher education programs.
Books will be donated by the whole carton, and each carton has about 30 books. Power Reading Workshop has 32 books per carton and Mastering Math Facts has 28 books per carton.
The organization requesting the books is responsible for paying the shipping cost of $30 per carton. This offer is only available in the US.
Payment for shipping must be made in advance with PayPal or sent with the Book Donation Order form.
Orders will be filled in the order they are received until the inventory is depleted.  The final deadline for ordering is June 25th.
Books will be shipped to the attention of the principal or an administrator.
The donated books become the property of the school or educational institution that requested them. If the books are given to educators at the school, they become the property of the recipients, but the books may not be sold for profit.
How to Request Book Donations for Your School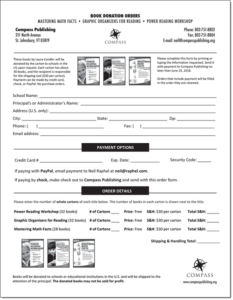 To request book donations on behalf of your school or district, follow these steps:
Fill out this Google Doc form let us know that you're planning to submit a request. You'll be asked to provide your contact information and answer a few quick questions about your school or district.
Fill out the Book Donation Order Form. You may fill out the form online before printing it, or print a blank copy to fill out later by hand. If you fill out the form online, you'll need to print it and then scan it before emailing or faxing it to the publisher.
Send the completed order form with payment for shipping to the Compass Publishing no later than June 25th. (Details are on the order form.)
I'm  hoping that my books will end up in the hands of educators instead of being discarded, but we only have a week left to donate the books! Please help me spread the word about the Book Donation Bonanza!