Classroom Book Clubs: Literature Circles Made Easy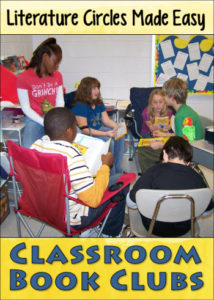 Imagine your students clustered into small groups around your room, excitedly discussing the books they're reading. As you move from group to group, you see them smiling, nodding, actively engaged. You don't have to wonder if they're reading – you know they're reading! They're pointing to pages in their books, defending their opinions, making predictions, and sharing their favorite parts. How could they NOT be reading?
You've just observed the excitement of Classroom Book Clubs, an easy and effective variation of traditional Literature Circles. You won't have to assign roles because your students will learn how to talk about books naturally as you might do in your own book club.
Now you can learn how to implement Classroom Book Clubs in your own classroom. I've created a series of video lessons that walk you through the process, step-by-step. To learn more about what's included in this self-paced program, watch my introductory video below. To learn how the program is aligned with the Common Core.
New Classroom Book Clubs Facebook Group
The Classroom Book Clubs program includes membership in a private Facebook group of teachers who are implementing this approach to Literature Circles. This Facebook group is a great place to ask questions and share ideas with other teachers as you implement Literature Circles! Click over to this blog post to learn more about the group and how to join.
Classroom Book Clubs Program
To make it super-easy for you to implement book clubs in your classroom, I've created a series of 5 video tutorials to explain everything in a step-by-step manner. The Classroom Book Clubs program also includes all of the printables shown in the videos as well as a study and planning guide for you. You'll discover that Literature Circles are easier than you thought! (Includes 1 membership in Facebook group)
Literature Circles Discussion Bundle
Classroom Book Clubs is a part of the Literature Circles Discussion Bundle which also includes Talking Sticks Discussions and Discussion Connections, two products to help foster more collaborative discussions. (The Literature Circles Discussion Bundle includes 1 membership in Facebook group)
Watch this short video to learn more about Book Clubs.
I've spent 15 years experimenting with Literature Circles in my classroom, and I finally found an approach that students enjoy, an approach that's free of cumbersome management systems. I'd love to tell you how it works! Click the video below and I'll share the 7 steps to Classroom Book Clubs success!
Affordable Alternative to a Traditional Teacher Workshop
The Classroom Book Clubs program is a terrific alternative to the traditional teacher workshop as a way of learning how to implement literature circles. If you were to attend a workshop on this topic, you could expect to pay $75 to $100, not including your hotel and travel expenses. Instead, you can download the videos and watch them at your leisure for a fraction of that cost.
If you school decides to implement Classroom Book Clubs schoolwide or using the program for staff development, please purchase multiple licenses of the Classroom Book Clubs program or the Literature Circles Discussion Bundle. These licenses are available at a discounted price, and each license includes one membership in the Facebook group.
What are Classroom Book Clubs?
The Classroom Book Clubs program is a variation of traditional Literature Circles in which groups of students read the same book and have weekly meetings to discuss their thoughts and feelings about the book. The Classroom Book Clubs method is more relaxed and less structured than many forms of Literature Circles, and its flexibility makes it more adaptable to a variety of classrooms and students. Teachers who have used this method find that their students enjoy the social aspects of reading and discussing books. It's not designed to be a total reading program; instead, you can integrate it into your existing reading program. Each round of Classroom Book Clubs takes only 2 to 3 weeks, so it allows you to add a little variety to your literacy program.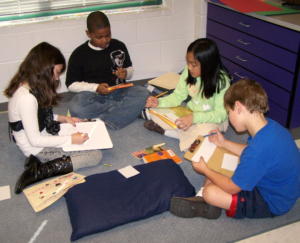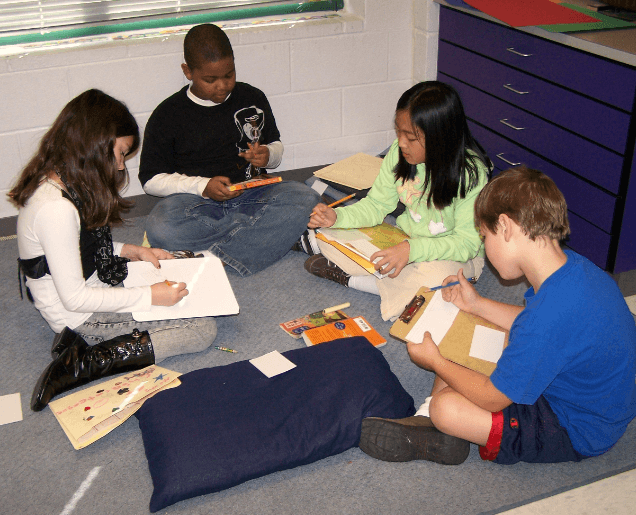 Meets Common Core State Standards
Worried about meeting Common Core State Standards? Using Classroom Book Clubs will help you meet the majority of the CCSS for Speaking and Listening! Download the CCSS reference below to see exactly which standards are met by Literature Circles and Book Clubs.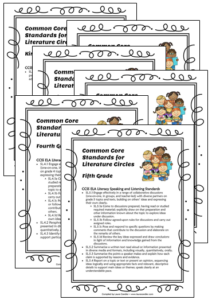 What are teachers saying about Book Clubs?
"Classroom Book Clubs is so very well organized for a busy teacher!  You can view each segment either consecutively or independently and then quickly implement Classroom Book Clubs with your students.  Each video is chock full of helpful information that is designed to help you feel confident and competent from the beginning. Her methods make it easy to be successful. Laura expertly breaks it down day by day, and even minute by minute so you won't waste a moment of valuable instructional time. The accompanying worksheets are teacher and student-friendly.  This is not a one-size-fits-all program, as she offers many options to make CBC work for real classrooms filled with students of every learning style. Laura has thoughtfully designed a high quality and practical professional learning package that works!  Thank you, Laura, for sharing your expertise with me!" ~ Tammi Pittaro
---
"I have always been a big fan of Laura Candler's materials, and Classroom Book Clubs has become one of my favorites! She provides detailed information for starting Book Clubs and all the printouts I need to run a Book Club. Besides a step-by-step slidecast with pictures and Laura's voice walking me through each step, there are pages of PDF files that I can print out and use immediately in my classroom as handouts for my students to use.

---

I am one of those teachers who buy professional books, I but never get a chance to sit down and read them! Thank goodness for Laura's slidecasts! I can listen to her explain everything while I look at her slidecast and PDF files simultaneously. Her voice is clear and calm, and she explains with insight as a teacher who has tried and used all of these ideas and materials in her own classroom.
---
Laura Candler is not about educational theory. Instead, she has great ideas, fantastic handouts for the class, and everything she does is about sharing with other teachers how to successfully implement her great ideas in the classroom. After reviewing these materials, I started up my own Classroom Book Club, and it is running daily in my classroom.
---
I couldn't have had the confidence to start without Laura's great slidecasts and PDF printouts. Laura makes me look good because I am able to use her fantastic strategies in my classroom. Her materials give me the confidence to begin, not just add another book on my shelf to look at sometime in the future." ~ Francie Kugelman
---
"As a parent of two children with special needs who runs a non-profit to help families and children with Autism, I don't have much time to fit in anything extra.  However with kids with Autism learning in so many different ways, I need to keep up on different things to help them.  I use a great deal of the teaching materials and ideas from Laura Candler.  Her materials are so hands on and so adaptable that they work great with so many kids that learn in different ways from the norm, including the kids that I work with on the Autism Spectrum. This is why I was so excited about Laura's new Classroom Book Club materials and training. Not only was I able to listen to the trainings while doing the dishes and driving the kids to therapies, but the downloading and printing was so easy that I could learn something that I really think the kids will love without taking a day away for professional development or getting behind in everything else I need to get done.  I can't wait to get this started!" ~ Lori Swan