DonorsChoose.org and Caring Classrooms
DonorsChoose is a nonprofit organization that helps public school teachers in the United States obtain funding for their classroom projects. As of this date, they've helped teachers receive over a BILLION dollars in funding for their classrooms! This page has links to helpful resources for teachers who use DonorsChoose to obtain funding for classroom materials and supplies.
Caring Classrooms is a giving page that's a part of the DonorsChoose community. Members of the Caring Classrooms Community on Facebook help each other get their projects funded. As of August 2023, they've helped to raise over $1,100,000 for classrooms in the US! Francie Kugelman and I are the admins of this giving page, and if you'd like to learn how to get us to feature your project on our giving page, click here to learn how it works.
Sign up for the Caring Classrooms newsletter so you'll be notified when we host special events.
Watch the Donors Choose Webinar Replay Here!
DonorsChoose: A Jackpot of Classroom Funding
Do you regularly spend your own money on classroom supplies and materials? If so, make time to watch this free webinar and learn how you can hit the DonorsChoose jackpot! DonorsChoose.org is a non-profit organization that helps public school teachers in the US get needed classroom resources. You'll learn about the types of services and materials you can request and how to write effective project proposals. You'll also learn tips and tricks to increase the odds that your proposal will be funded.
Links to More DonorsChoose Information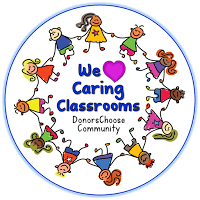 Sponsors and Bloggers for Caring Classrooms
The Caring Classrooms Community is sponsored by several organizations and a whole host of educational bloggers. Check the sidebar of this page to find links to those who have contributed to the giving page. If you would like to become a Sponsor of Caring Classrooms, please visit the Caring Classrooms Sponsorship page to learn the details.