Caring Classrooms Sponsorship Opportunities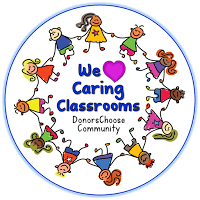 Caring Classrooms is a "giving community" on DonorsChoose that supports teachers who are trying to get classroom projects funded.
Francie Kugelman and Laura Candler are the administrators of the Caring Classrooms giving page and the corresponding Facebook community, and we need your help to make sure teachers get the resources they need. We just celebrated our 3rd anniversary in August, and with the help of our sponsors, we've helped raise over $225,000 in that time! We are seeking sponsors at the following sponsorship levels:
Platinum – $1000
Gold – $500
Silver – $250
All donations are 100% tax deductible, and the money goes directly into a DonorsChoose account for projects selected for the Caring Classrooms Giving Page. When a project receives a donation from the money you contributed, your name (or business name) will appear on the donation.
If you want to become a sponsor, please complete the form at the bottom of the page. If you have any questions, email us at [email protected]. Thanks so much! ~ Laura Candler
Benefits of Becoming a Caring Classrooms Sponsor
You will be supporting public school teachers in the US who are passionate about teaching and learning. Your donation will be used during contests on our page, and the money will inspire thousands of additional dollars to be donated during those events.
All Sponsors will have their name or their company name and a square logo placed in the sidebar of several DonorsChoose pages on Teaching Resources along with a link to their site.
All sponsors will be recognized during the live DonorsChoose webinar that Francie and Laura are presenting on Sunday, September 25th. They will also be recognized in email messages that go to teachers who sign up for the webinar and those who are on the Caring Classrooms email list.
Silver Sponsors will get a shout out on the Caring Classrooms Facebook page for being a sponsor. That page has over 13,000 followers.
Platinum and Gold Sponsors will receive a shout out on Laura's Teaching Resources Facebook page for being a Caring Classrooms sponsor. That page currently has over 660,000 followers. In addition, Laura will share blog posts or other relevant content from time to time as requested by the sponsor.
All sponsors may request to join a secret Pinterest board set up by Laura Candler called Caring Classrooms Sponsors (Secret). You may pin freebies and helpful blog articles to this board for Laura to consider pinning to her boards where they are a good fit. Most of Laura's boards have over 50,000 followers. (Note: Only free and useful content in the form of high-quality, visually-appealing pins will be repinned.)
How to Become a Sponsor
If you would like to become a sponsor for the 2016-2017 school year, please complete the Google Doc form below.
Then go to the DonorsChoose gift card page, purchase the card for the amount of your sponsorship, and email it to me at 

[email protected]

.
If you are a Silver, Gold, or Platinum Sponsor, email us a square logo for the sidebar along with the title you want displayed and the URL of the page you wanted linked to those items.
Candler's Classroom Connections
Awesome freebies and resources for elementary educators!