Candler's Classroom Connections Sign Up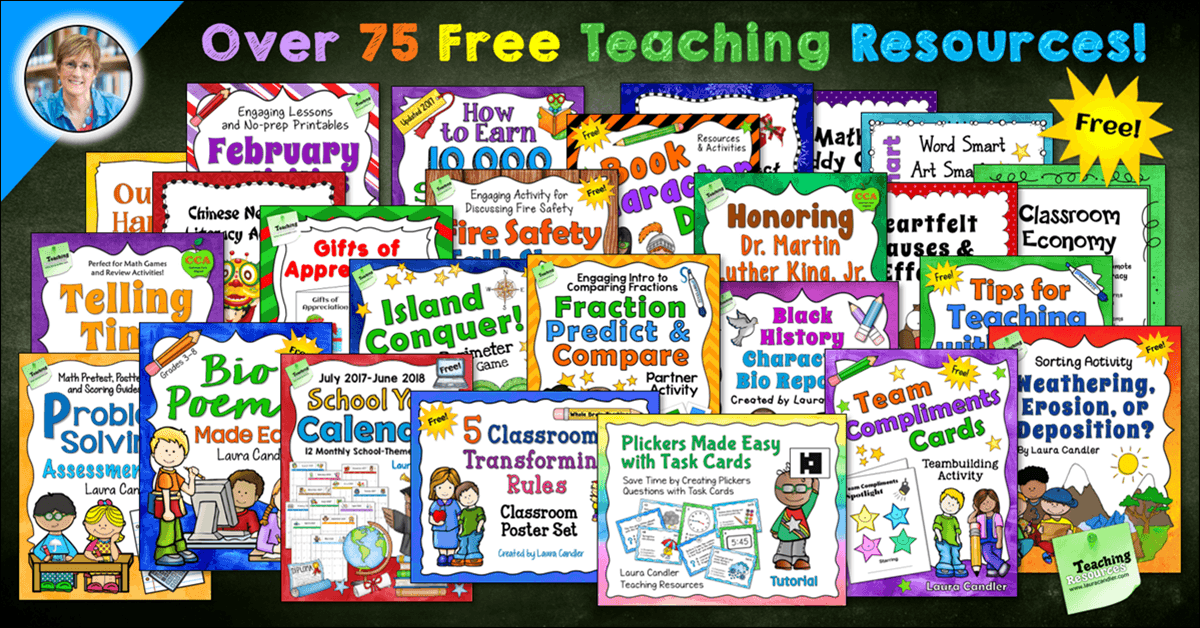 "I have spent the past few days looking at your site and enjoying your past and current newsletters. I feel like a kid in a candy store! Thanks so much for your hard work and your effort!"
~ Leslie Nichols
How to sign up for Candler's Classroom Connections
To sign up for my free newsletters, fill out and submit this sign up form. (Tip: It's best to sign up with your home email address because your school email may block the newsletters.)
Get Access to Over 75 Freebies for Teachers!
Over the years I've created hundreds of resources for teachers, and dozens of them are absolutely free!  To get access to over 75 of my very best freebies, sign up for my Candler's Classroom Connections newsletter. Then look for a welcome email from me that has a link to the private page called Laura's Best Freebies. If you're already a subscriber, look for a link to Laura's Best Freebies in a recent email from me.

What else will I receive when I subscribe?
In addition to being able to access the Laura's Best Freebies page, you'll also receive:
Regular newsletters full of activities and teaching ideas for elementary teachers
Special limited-time offers and discounts on individual products or my entire store
Information about new resources in my TpT store and updates to existing products
I signed up, but I never received the Welcome message and I haven't received any newsletters. What's wrong?
If you sign up but don't get email, here are a few ideas to help you troubleshoot the problem:
You might have accidentally typed your email address incorrectly. If you think this could be the problem, try again. (When I look at my list of "bounced" email addresses, it's amazing how many of them are due to simple typos like writing ".con" instead of ".com"!)
If you signed up with a school email address, it might be blocking my emails. The easiest solution is to use a personal email address.
It could be that your email program is blocking the emails or moving them to another folder. Check your junk mail folders and your spam folders. If you use Gmail, check your promotions tab. If you find an email from me, click the star icon to add the email to your safe sender list.
Candler's Classroom Connections
Awesome freebies and resources for elementary educators!
I don't remember subscribing. Why am I receiving emails from you?
Many of my best resources such as live webinars, exclusive freebies, and giveaways are only available to my newsletter subscribers. When you enter a giveaway or sign up for one of these exclusive freebies, you are "opting in" to my email list. If you aren't interested in receiving any more emails and freebies from me, you can unsubscribe using the link at the end of any email from me. However, unsubscribing may prevent you from registering for my free webinars or downloading my newest freebies.
What do I do if I used to receive your newsletters, but I'm not anymore?
What Might Have Happened: Every once in a while I remove email addresses that don't seem to be working, and yours might have been removed by mistake. Another possibility is that my emails are being filtered out and sent to a junk mail or promotions folder.
What to Do: To resubscribe or confirm your subscription, enter your email address using this subscription link. If you end up on a page saying that you are updating your profile, fill out the information on that page to reactivate your account. You will receive a welcome letter that has a link to the newsletter archives. From there you can access all the newsletters you missed.
If you can't find the welcome email: Check your spam folders and, in Gmail, check your promotions tab. If you find the email there, add it to your "safe sender" list. In Gmail, click the star icon to mark the email as something important and additional emails from me should go to your primary inbox.
If that doesn't work: Your only other option is to sign up with a different email address.
What if I want to cancel my subscription?
If you want to cancel at any time, just click the Unsubscribe link at the bottom of any newsletter.
What is your email privacy policy?
I only collect email addresses for the purpose of contacting you about freebies, webinars, and teaching resources I believe might interest you. I promise that I will NEVER sell your email address or give it to anyone else without your permission.