Powerful Strategies for Building Math Vocabulary Webinar Freebies
Webinar Resources and Freebies Page
Thanks for watching Powerful Strategies for Building Math Vocabulary! I've loaded this page with freebies, games, and resources to make it easy to help kids master the language of mathematics. If you're interested in obtaining a professional development certificate for attending or watching the webinar, you'll find that information below.
Math Vocabulary Building Bundle
The Math Vocabulary Building Bundle includes the upgraded webinar with the professional development certificate and 13 additional math teaching resources. If you purchased these items individually, they would cost more than $83, so the current price of $54.95 represents a 30% discount!
To see everything in this bundle, click here to download the PDF preview on the right, and then click on the titles to find the items on TpT.
Math Webinar Freebies and Blog Posts
Math Webinar Free Printables
Related Blog Posts and Resources
Recharge and Write Video
Related Math Vocabulary Webinar Products
Professional Development Certificate Available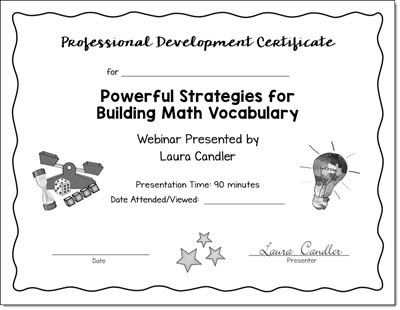 You may be able to earn professional development credits for watching this webinar. A free PD certificate is no longer available; however, if you purchase my Math Vocabulary Building Webinar Pack or my Math Vocabulary Building Bundle, you'll receive a link to the certificate shown on the right. I don't have the authority to award PD credits, but you can check with your school or district to see if they will accept this certificate. To increase your chances of receiving credit, take notes during the webinar and submit a copy of your notes with the completed certificate.