Spelling & Vocabulary Resources
If you love playing Wordle, your kids will love Wordle Wiz! Click here to request your free copy of this word game!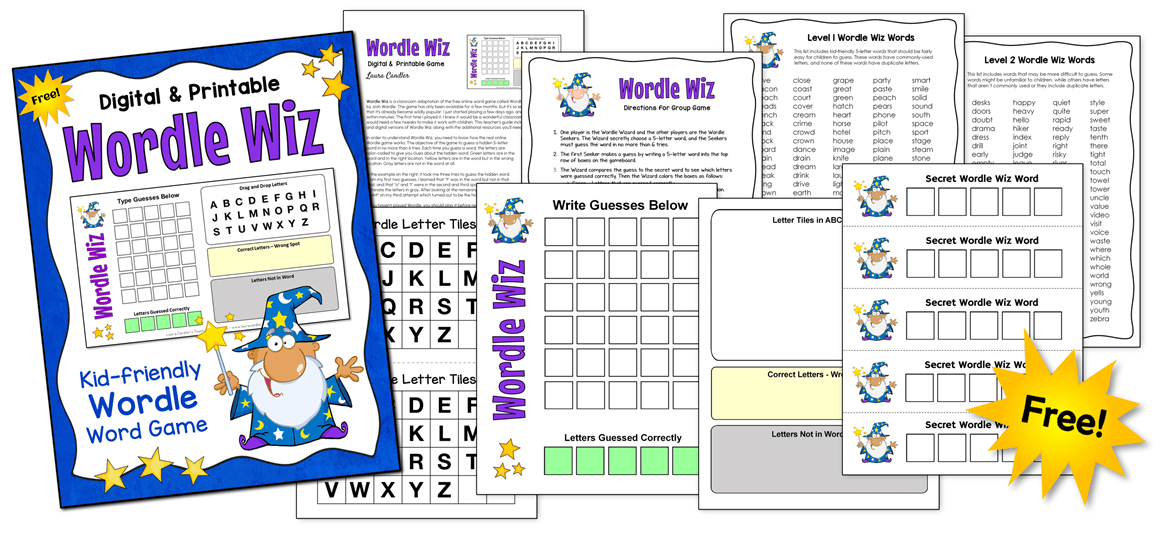 Spelling and vocabulary instruction are two areas that I tinkered with for years, and I kept trying new strategies. These areas are a challenge because I don't believe in having kids memorize a random list of words based on a certain spelling rule. Instead, I based my program on words that kids are currently using or might be able to use in written or oral communication.
How to Differentiate Instruction with SpellingCity.com
I found a wonderful website that allows me to differentiate my instruction and makes spelling practice easy and fun. If you set up a free account at SpellingCity.com, you can enter your own list of spelling words each week. You can even enter different spelling lists for different students, or have them enter their own words. They can study at home or at school, and the computer will read the words aloud to them for so they can take a test online! It will even print out a test and show which words they missed! Have fun with this site!

My Spelling/Vocabulary Program
My spelling program was a little unusual but it worked for me. I assigned 15 spelling words each week and 5 vocabulary words. I found their weekly words in:
Books I was reading aloud
Our basal reader or class novel
Written work samples
Words suggested by students
Age-appropriate vocabulary lists and vocabulary books
The words were assigned on Friday and students were required to write spelling sentences or stories using at least 10 of the words. On Monday, students frequently took a pretest on the computer using SpellingCity.com. They also completed some type of foldable or graphic organizer with the vocabulary words to help them learn the meanings of those words. Students didn't have to spelling the vocabulary words on the test – they just had to recognize the meanings of the words. The test was on Thursday which allowed me to grade it and return it in their Friday progress reports.
Differentiating Spelling & Vocabulary Instruction
I never used the same list with the entire class. I had at lease two lists at any one time – the Basic list and the Advanced list. Students (with parental guidance) were allowed to choose which list they would like to use. The Basic list had easier words that are often variations of one word or that focus on a spelling skill like learning to add suffixes. I also allowed some students to create their own spelling list over the weekend and bring it to me on Monday. Their parents had to sign it and I had to approve it before they could use it. They were also responsible for typing the words into SpellingCity.com on Monday.
Sometimes teachers asked how I handled giving several different spelling tests each week. Here are some ways to administer multiple spelling tests:
Call out one list and have a tutor, assistant, or parent volunteer call out the other.
Call out one test while the other kids do something else and then switch.
Call out one test while the others take their test on SpellingCity.com.
Spelling and Vocabulary Blog Posts
Free Spelling and Vocabulary Printables
Candler's Classroom Connections
Awesome freebies and resources for elementary educators!