Seek & Spell Challenge – Word Work That WORKS!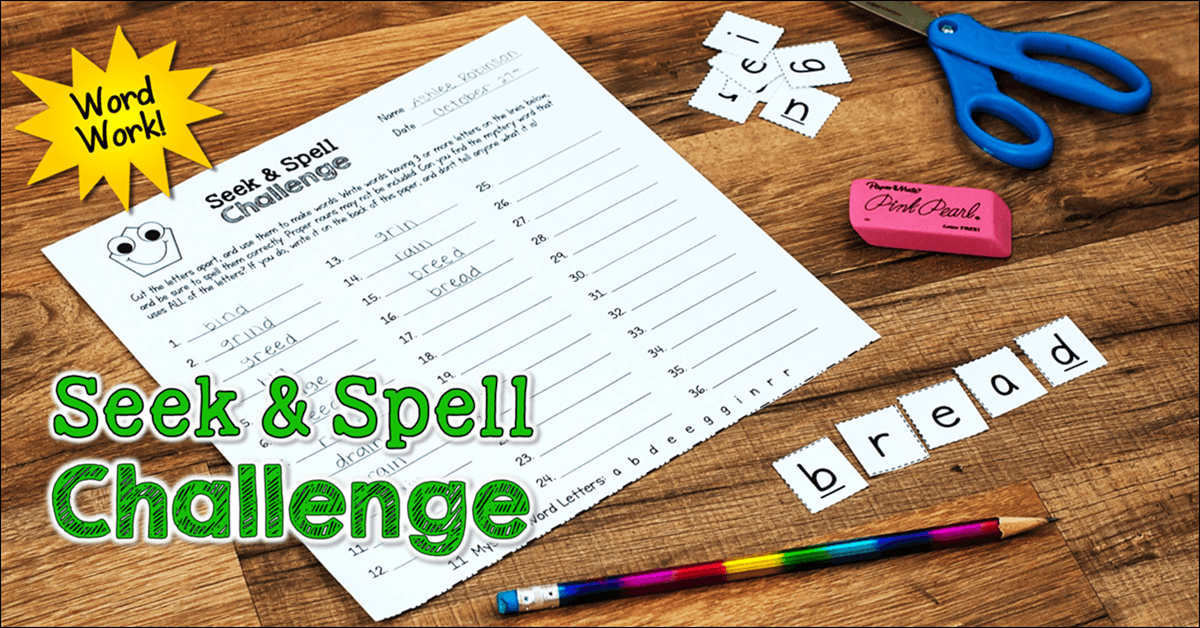 Do your students groan when it's time for spelling? Spelling might be an important subject, but it doesn't usually inspire a passion for learning! But that might change if you introduce your kids to Seek & Spell Challenge. In fact, they might BEG for this activity! After you read how the game works, download a free sample of this activity to try with your own students and you'll see exactly what I mean!
To play the game, students are given a set of letter tiles that they cut apart and use to create and record as many words as possible. Making words with letter tiles is not a unique concept, but Seek & Spell Challenge has a unique twist that makes it motivating and fun for kids. What's the secret sauce? Simply that all of the letters can be unscrambled to form a "mystery word," and kids love the challenge of searching for that word!
I originally created Seek & Spell Challenge as a fun seat work activity for my 5th graders to be used on special days, like the the morning of a field trip or the day before a holiday because it had a calming effect on the class and my students enjoyed it. But when I noticed how much my students' spelling and reading skills were improving, I started including it as a regular work work activity in my literacy centers. The results were even more amazing when I used it weekly!
I decided to ask the elementary teachers in one of my Facebook groups to see what they thought about the Seek & Spell Challenge idea, and they loved it! I invited them to help me adapt the concept for younger students and to field test the activities in their own classrooms. As I created the mini-lessons and printables and shared them with the teachers, they offered loads of great suggestions for making it more appropriate to use with a wide range of grade levels. These amazing teachers also tested the resources in their classrooms, and everything worked perfectly as planned!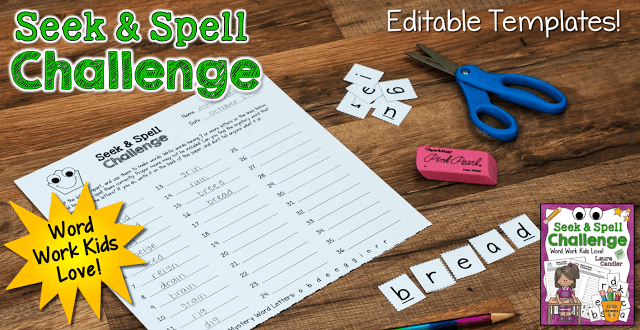 Click HERE for a full PDF preview.
What Teachers Love About Seek & Spell Challenge
I loved reading the feedback from field testers who shared why they found the program to be so powerful. It was so validating to learn that what I had experienced in my classroom was happening in other classrooms, too. Here's what a few of teachers shared with me:
Seek & Spell Challenge engaged my students and encouraged "real thinking" about words and their spelling. I loved watching teams of two work together and brainstorm and then check the word wall or their "quick words" for correct spelling. Having to find the "Mystery Word" was the bonus! The kids loved this concept and it provided a nice challenge for those who needed it. Manipulating the letters is important for student growth as it provides practice and exposure that they need as spellers, writers, and readers. ~ Cheryl Jordan, 2nd  Grade
 My students loved Seek & Spell Challenge! I had them work individually and then with a partner. They enjoyed comparing the words they each had made, finding those that were the same and those that were different. They saw that they could rearrange the letters in each other's "big" words and make smaller words too. I know there are similar word work activities; however, this packet is much more thoroughly put together and easier to prepare and use in the classroom. ~ Cheryl Barrios, 3rd and 4th Grade
I love how Seek & Spell Challenge is naturally differentiated for each student's level; my lowest students could find success and my higher students could find challenges. ~ Deena Hayes, 5th Grade
My students loved the kinesthetic aspect of Seek & Spell Challenge. It was interesting to watch how they created words and how the activity easily differentiates itself as the kids are working. Having the letters that can be confused underlined helps greatly. Even though my kids needed help finding the mystery word, they were still so excited to get to it via my clues and were just as happy when they finally figured it out. The mystery part adds such a fun element to the whole activity. ~ Sally Campbell, 2nd and 3rd Grade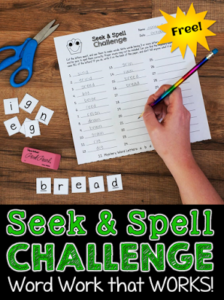 Seek & Spell Challenge Freebie
To give teachers a chance to test out Seek & Spell Challenge, I created a free mystery word activity  to download and try with their own students. Grab this freebie from my TpT store and take a look to see what you think.

Thanks to My Teacher Field Testers!
I wanted to wrap up with a funny story from Deena Hayes who tested the activity with her 5th graders. Sometimes teachers have to be a little sneaky to get kids started on a new activity, and Deena knew just what to say at the first sign of resistance!
"My class had a great time completing the activity. At first, they weren't exactly thrilled, because it looked like a spelling activity. I reassured them that it wasn't spelling at all, instead it was a fun puzzle contest. With that, the race was off and running!"
I am so grateful for the help from my field testers; Seek & Spell Challenge would not be the awesome resource that it is without their feedback and suggestions! To show my appreciation, I acknowledged them at the end of the book… and I sent them all a free copy of the finished product, of course!