Teaching Informational Text with Magazines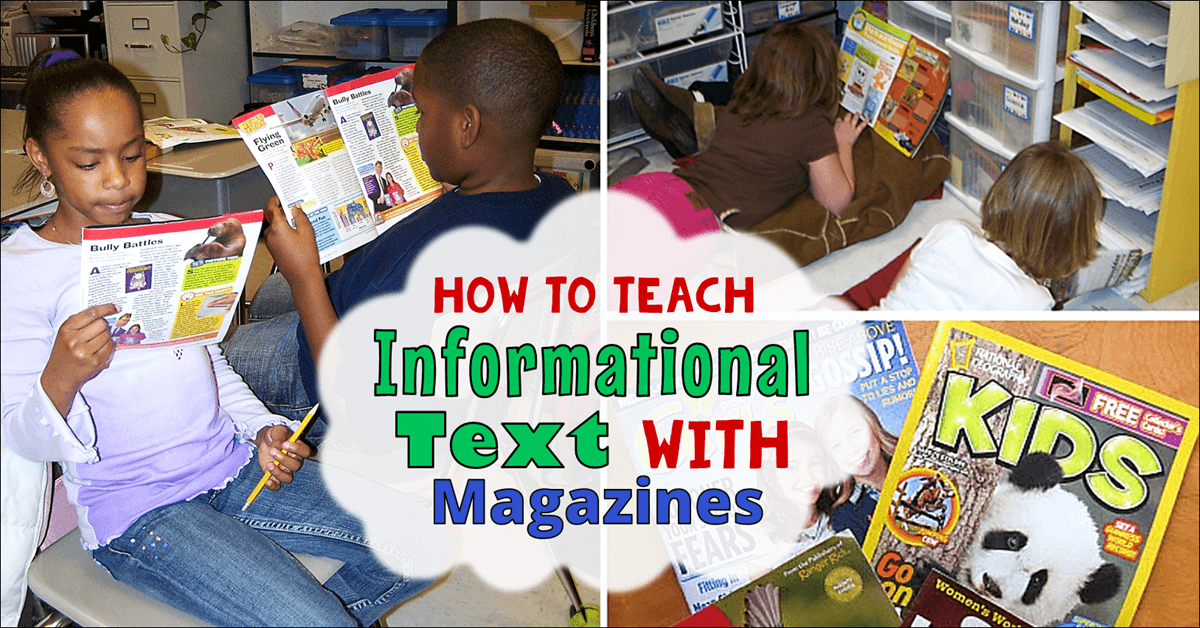 With the Common Core emphasis on teaching informational text, you might be wondering where to find appropriate texts for reading instruction. Most classrooms are overflowing with great children's literature and novels, but many schools lack a good selection of interesting nonfiction texts.
If you enjoy reading magazines yourself, the solution is right in front of you! As it turns out, children's magazines are a great source of informational text. The articles are short, interesting, and appropriate for children. They often use a variety of different text structures and text features so they make excellent practice passages for working with nonfiction. In fact, many reading selections on state tests are very close in structure and format to magazine articles.
The challenge is finding enough copies of magazines for your classroom and knowing how to use them effectively. I'd like to share a few of my favorite sources as well as some tips for using them. I'm also going to giveaway a few subscriptions to Sports Illustrated Kids!
Listen to the Podcast: Teaching with Children's Magazines
To learn more about teaching with children's magazines, listen to Episode 8 of Inspired Teaching Made Easy using the audio player below, or find it on Google Play or Apple Podcasts.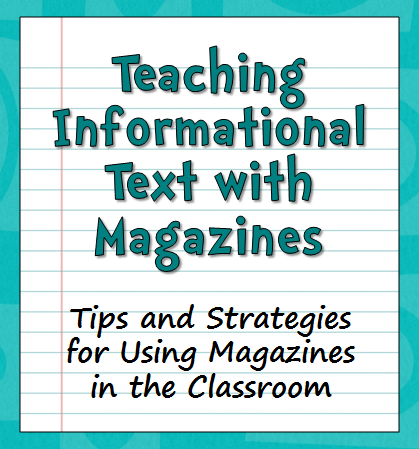 Weekly Classroom Magazines
The most obvious place to look is to find a classroom magazine like Time for Kids and Scholastic News. I prefer Scholastic News and used it every year with my students. It was a great way for students to practice reading informational text and keep up with current events.
Since a new issue arrived almost every week, it was easy to integrate it into my literacy instruction and sometimes into science or social studies. We used it with small guided reading groups and reading mini lessons. It was easy to have students read and respond to the articles with graphic organizers or in journals. Because everyone had a copy of the same text and the magazine belonged to them, they could use highlighters to practice reading strategies and it was easy to discuss together. I also used it for "paired reading" practice as shown in this picture.
You may be able to get your school or PTA to pay weekly magazines because the cost is very reasonable.  Also, if you are a public school teacher in the US, you can get them through DonorsChoose.org.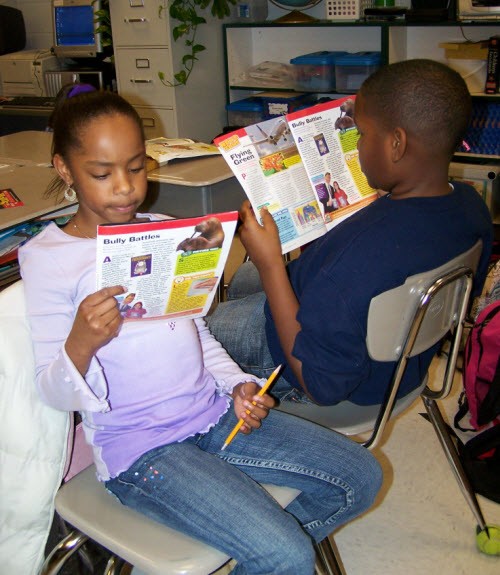 Monthly Children's Magazines
Weekly magazines have many advantages and should be a part of any classroom, but they don't have quite the appeal of a traditional magazine like National Geographic for Kids or American Girls. Monthly magazines are larger, more colorful, and have a wider variety of different types of content. Unfortunately, they are also more expensive and only send out a few issues each year, so it takes time to build up a collection of them. It's also harder to figure out how to use them in your lessons because each issue is unique.
How to Obtain Magazines for Your Classroom
Where can you get magazines for your classroom? Here are a few ideas:
You can start by asking your school librarian if he or she has collections of back issues that you can check out and bring to your classroom. If you do this, be sure to write down the number of copies of each title and count them at the end of reading class to be sure they have all been returned.
Magazine subscriptions are available through Amazon.com, so you can create a DonorsChoose.org proposal for a variety of children's magazines. The prices range between $15 and $33 per subscription, so you could request up to 10 different magazines and keep your proposal under $400 which will make it more likely to get funded.
You can ask parents to send in old issues of children's magazines, but make it clear that the magazines must be kid-friendly and are subject to your approval before they can be read in class.
Establish a "Classroom Magazine Fund" and ask parents to donate money to help you purchase classroom magazine subscriptions. You can customize and send the letter shown below.
Ask parents to donate a magazine subscription to the classroom. See the customizable letter below for sample wording.
Some airline frequent flyer programs will let you use miles to purchase magazines. Delta's program allows you to purchase Sports Illustrated Kids with points, and I often use my extra points to give away subscriptions to teachers. Read the giveaway details below to find out if one is currently in progress.

If you aren't able to purchase children's magazines for your classroom, I hope you'll consider letting your students bring magazines to school and read them from time to time. You'll want to review any magazines students bring from home, of course, because many popular magazines are not appropriate for kids. However, I think you'll find that bringing magazines into your classroom will have a huge impact on your students and their attitudes towards informational text.
How to Find Appropriate Children's Magazines
Before ordering a subscription to any children's magazine, you'll want to make sure it's appropriate for your students. Your local library should have copies of most popular children's magazines, but if you're short on time, you can look for recommendations online. The easiest place to find magazine reviews of is on Amazon.com. Even if you don't plan to purchase your magazines there, it's really helpful to read reviews for any magazines you're thinking of purchasing. You'll discover, as I did, that some children's magazines are full of advertisements, and some include content that's not appropriate for the target audience. If you're looking for magazines with informational text, check out National Geographic Kids, Ask,  Sports Illustrated Kids, Ranger Rick, and Dig Into History. What magazines do you recommend? Please share your suggestions!
How to Use Monthly Magazines
Monthly magazines can be more challenging to use for small group or whole group instruction because you usually only have one copy of each issue. Fortunately, there are a few ways to deal with this problem. First, if you have a document camera, you can project an image of the magazine pages on a whiteboard where everyone can see them. Another option is to make copies of a specific magazine article to use with a lesson. Magazines are protected by copyright, but educators can generally make a limited number of copies for classroom use under the fair use copyright guidelines. However, before you make any copies, please read those guidelines yourself to be sure your situation is covered.
Another way to use monthly magazines is to make them available for students to read during independent reading time. If you don't want to let your students read magazines every day, host a monthly Magazine Power Hour. This activity is one of the Power Reading Tools in Power Reading Workshop: A Step-by-Step Guide, and the lesson includes a ready-to-use printable to make the activity easy to implement.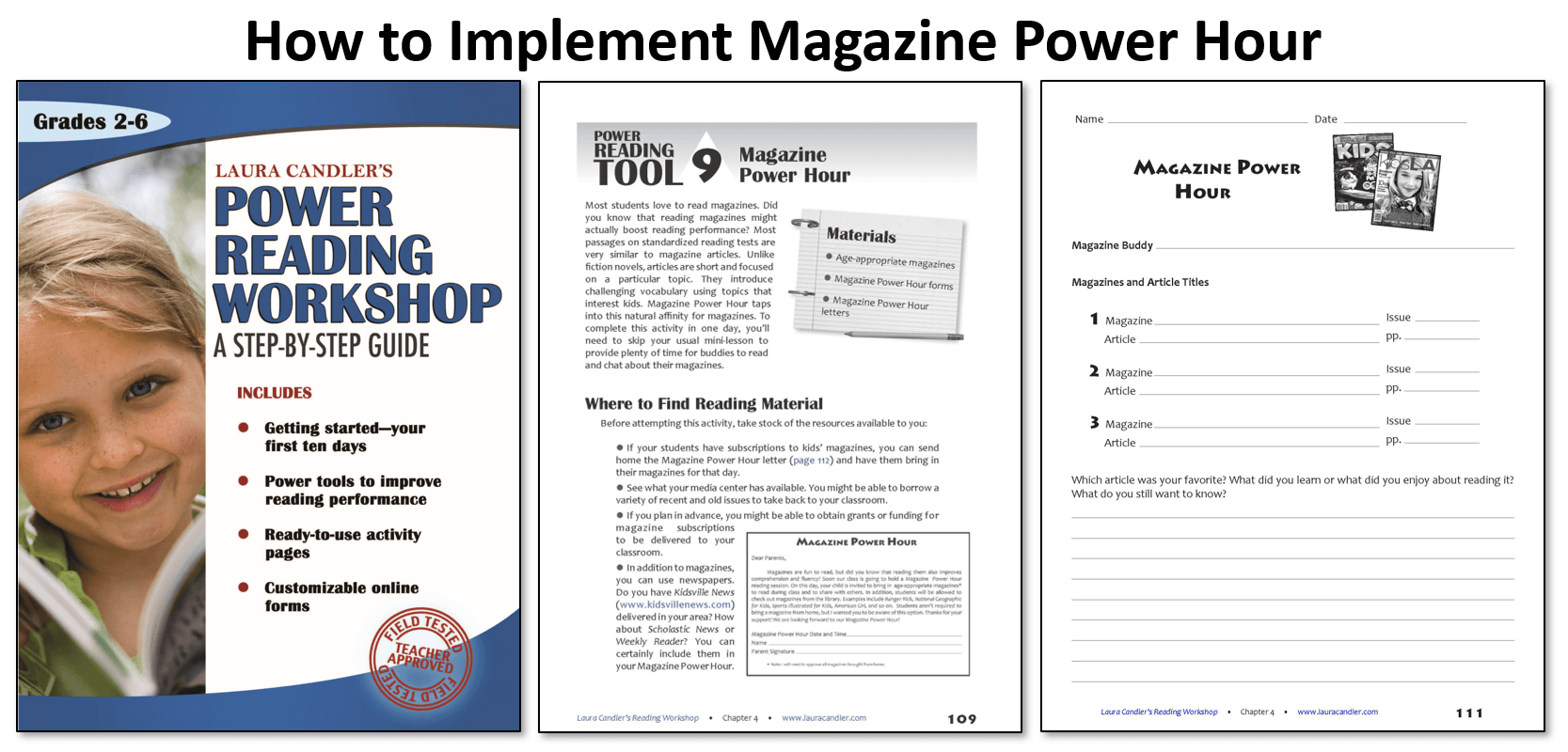 In a nutshell, Magazine Power Hour is an activity that takes the place of your regular reading lesson once a month. Because an hour is too long for most students to sit still and just read, the Magazine Power Hour is broken into 3 shorter segments. Students read their chosen magazine for 15 minutes and then meet with a reading buddy to discuss what they read and learned. They repeat this process two more times, and each time they may choose a new magazine if one is available. At the end of the hour, all students compose a short written reflection about their favorite article.
Sports Illustrated Kids Giveaway
Next Giveaway Deadline: October 12, 2019 
As I mentioned above, some airlines have a "Mags for Miles" program where you can get magazines for free. It just so happens that I have some extra miles, and I'm going to use them to donate a free subscription to Sports Illustrated Kids to at least 5 of my email subscribers!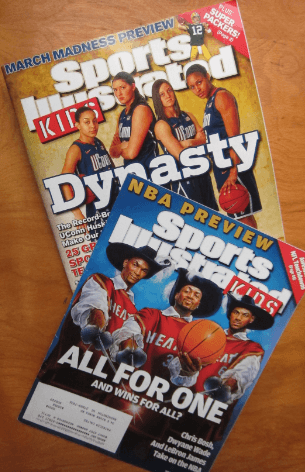 If you want to win a subscription for your classroom, please enter using the Rafflecopter entry form below. You must complete all 5 entry options in the Rafflecopter to be eligible to win. I will choose at least five winners during the contest, and the last winner will be selected on October 13th, the day after the giveaway ends.
I have good news for those who entered the giveaway in August or September 2019 and didn't win. You don't need to enter again because your information is still in the system and you're eligible to win in October!
By the way, due to mailing restrictions for the magazine, this contest is only open to educators in the United States. Also, all entrants must either be a current email subscriber or be willing to be added to my mailing list. Good luck!