Tips for Teaching Informational Text
About the only thing we can count on in education is that something is always changing! Our society changes, technology changes, our students are changing, and as a result, the curriculum is constantly evolving. Change can be exciting, but often it's frustrating as well. This is especially true when it comes to the Common Core Reading Standards and the new emphasis on informational text. Fortunately, I had the opportunity to explore this aspect of the CCSS while writing Graphic Organizers for Reading: Teaching Tools Aligned with the Common Core. Now I'd like to share some of those tips and strategies for teaching informational text with you.
Comparing and Contrasting Text Types
One of the best ways to get started is to have your students compare informational text with literature. Sounds like the perfect time for a Venn diagram, doesn't it?  Show your students several examples of both types of books, and ask them to help you brainstorm how those text types are alike and different.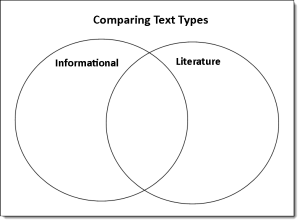 Record their ideas on a class Venn diagram. If you have a document camera, use it to display the pages of the book so that everyone can see all of the features on each page clearly. If you don't have a document camera, ask the students at the back of the room to move closer and have a seat on the floor near you.
Choosing the Right Informational Text
Most students are quite familiar with fiction, but they may not be nearly as familiar with nonfiction. That's why it's important to select just the right informational text to use for this lesson, something that includes a variety of nonfiction text features.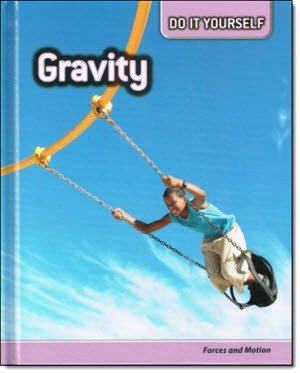 Last year I discovered the perfect book for this activity. Rachel Lynette of the Minds in Bloom blog is the author of over 70 nonfiction books for kids, and she sent me a copy of Gravity: Forces and Motion. It turned out to be just what I needed as an anchor text for my Informational Text Features Search lesson. If force and motion are not a part of your curriculum, take a look at Rachel Lynette's other nonfiction books on Amazon.com. I'm sure you'll find something that fits in with what you are teaching now or will be teaching later in the year.
When you display a nonfiction book like Gravity: Forces and Motion, your students will see at a glance that informational texts look quite different from literary ones. Within a few minutes, they will identify many details to add to your class Venn diagram.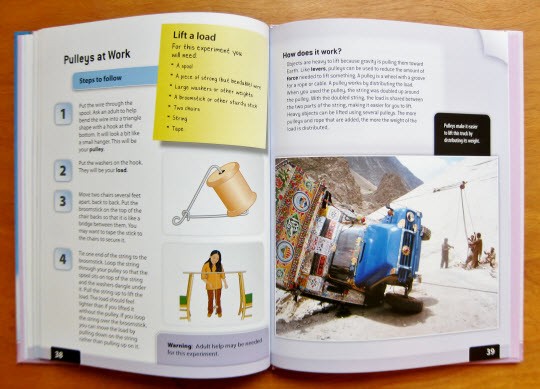 As you can see from this snapshot of Rachel's book, informational text elements often include numbered steps, headings and subheadings, illustrations with captions, and so on. Explain to your students that these items are referred to as "text features," and the author includes them to help make the text easier to understand. As you discuss each feature, ask your students how it helps them to comprehend, or understand, the text.
Informational Text Features Search Freebie
After your students become aware that informational texts are different from literary ones, they can apply their knowledge to text of their own choosing. Because I included this lesson in Graphic Organizers for Reading, the easiest way for me to share it with you is to give you the directions and graphic organizer as a freebie.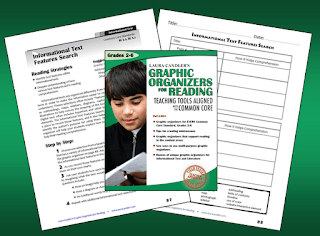 Click this link to download your copy of this freebie. Before teaching the Informational Text Features Search lesson, gather a collection of books on a variety of topics that include many different informational text features. If you don't have enough of these types of texts in the classroom, it's worth a visit to the school library to hand pick books on a variety of topics and reading levels. Or you can schedule a class visit to the library and ask your students to find informational books on topics that interest them.
Spending a bit of time introducing informational text features will help your students feel more comfortable with these types of texts. Before you know it, your students will discover that nonfiction books can open doors to worlds they never knew existed!