Free Webinar Replay
Thanks for your interest in Power Up Learning with Task Cards! This webinar replay consists of two videos created from a webinar that Rachel Lynette and I presented in September 2016. The live webinar was presented in one long session, but the replay was divided into two parts to make it easier to view. If you enjoy this webinar, visit my Free Webinars page to sign up for another replay or live webinar! If you would like a PD certificate, you can purchase the Power Up Learning Task Cards Webinar Pack which is just $6.95 for both videos or one of the bundles featured on this page.
Power Up Learning with Task Cards (Part One – 51 Minutes)
Power Up Learning with Task Cards (Part Two – 57 minutes)
Tips for Viewing the Webinar Replay
Click the Play button to play the video directly from this page. To view it full screen, click the icon in the lower right corner. If you prefer to download the video for offline viewing, it's available in my Power Up Learning with Task Cards Webinar Pack or one of the other webinar products featured below. All three of them include a professional development certificate for 2 hours of PD.
Free Webinar Handouts
You can download free handouts for this webinar from my TpT store. If you enjoy the webinar, I would love for you to leave feedback on the handouts or one of the webinar packs. Thanks so much!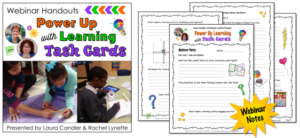 Power Up Learning with Task Cards Webinar Handouts
Professional Development Webinar Packs
Professional Development Certificate Info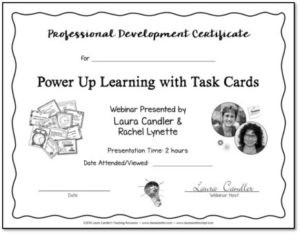 Power Up Learning with Task Cards PD Certificate
Professional development certificates are not free when you watch a free live webinar or free recording, but they are included with the purchase of my webinar products and bundles. The PD certificate shown here is included in all 3 products above. Sales of these items help to offset the expenses I incur when developing and producing these webinars.
While I don't have the authority to award PD credit for watching the webinar, your school or district might accept the certificate on the right along with copies of your webinar notes. It's worth a try, and even if you don't get credit, you can keep those documents on file as a part of your teaching portfolio.