Sharing our Blessings with YOU!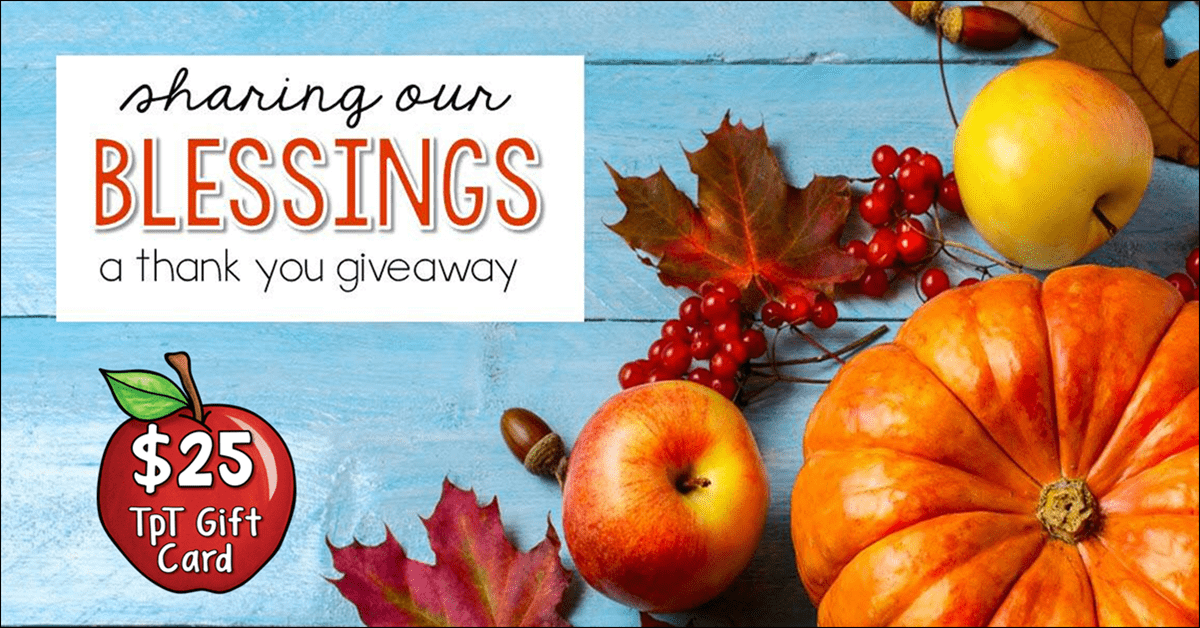 Thanksgiving is next week, which means it's time for the annual Sharing our Blessings blog hop and giveaway! Sixteen bloggers are participating this year, and each blogger is giving away a $25 TpT gift card. That's $400 worth of TpT gift cards and 16 chances to win!
All of us are grateful for the blessings we've received this year, and we want to spread a little joy by sharing our blessings with others. I could write for hours and never list everything I'm thankful in 2023, but I'm especially grateful for the love and support of my family. I also love outdoor activities, so I'm grateful for the many opportunities I've had this year to go camping, hiking, biking, and kayaking with my husband. I'm also thankful that we are both in such good health because if we weren't, we wouldn't be able to fully enjoy these experiences!
How the Blog Hop Works
We are each giving away one $25 TpT gift card during this blog hop, AND we are each giving away at least one TpT product for free! A total of 24 products worth over $80 are yours to download which makes EVERYONE a winner!
After you enter my $25 TpT gift card giveaway and sign up to receive the free products described below, click the images at the end of this blog post to learn more about the other resources being given away.
Because there are so many free products in this giveaway, I created a Google checklist that you can use to help you keep track of everything. When you click each product title on the spreadsheet, you'll go directly to the blog where that item is being given away! Download the product, check it off, enter the giveaway, and hop to the next blog! I also created a printable version for those who prefer paper and pencil checklists.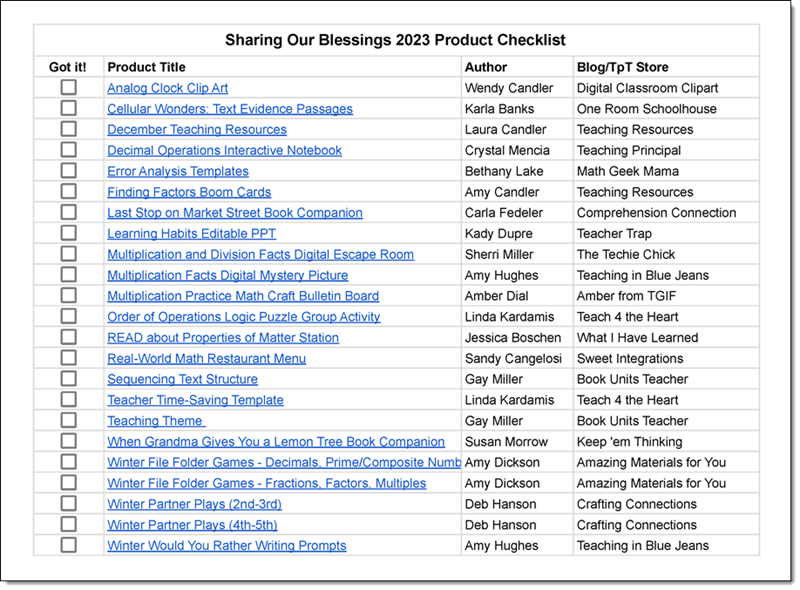 3 Gifts from Laura, Amy, and Wendy Candler
I'm not the only member of the Candler family who creates resources for teachers. Both of my daughters do, too! Amy creates interactive digital task cards, and Wendy creates digital clipart for teachers. This year all three of us are giving away one of our products, so you're getting an extra bonus from the Candlers! Read below to learn more about these resources, and sign up here to get all three of them absolutely free! You'll also be signing up for my Candler's Classroom Connections newsletter when you request these items. If you're already on my email list, check your inbox because you may have received an email from me with links to these resources.
Laura's Gift – December Activities
My free gift is December Activities which is a product from my Seasonal Activities Bundle. It's loaded with fun lessons and activities that will make December an exciting and productive time in your classroom! December Activities begins with several pages of teacher directions followed by more than 2 dozen pages of printables and answer keys. Google Slides versions of many of these activities are included as well. You'll also find two editable letters you can send to parents to request materials for the activities.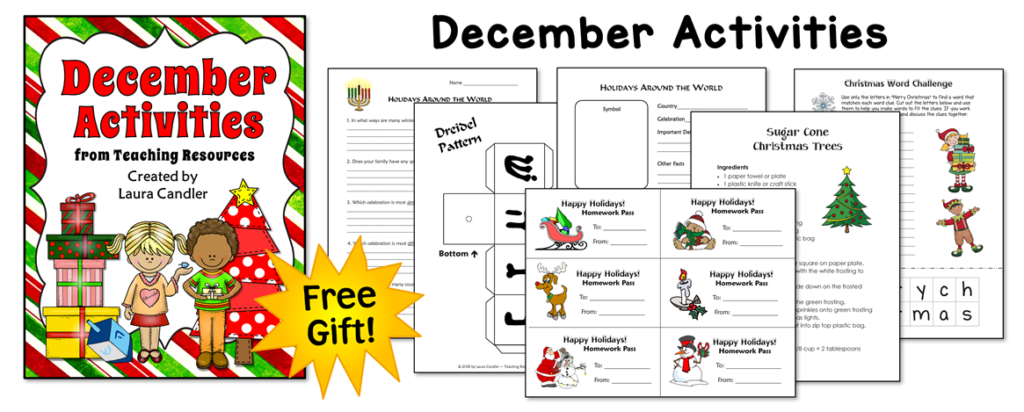 Amy's Gift – Finding Factors Boom Cards
Amy's specialty is designing digital task cards that are colorful, engaging, and effective! Her free gift is Finding Factors Level 1 Boom Cards, which is one of the products in our Finding Factors Bundle. This product includes 30 interactive digital task cards that will help your students master the skill of finding ALL the factors of a number. You'll need to have a Boom Cards account to use them, but free accounts are available. Amy's Boom Cards are self-checking and include audio directions; click here to preview this set on the Boom Learning website. This limited-time preview link was created using the "Fast Play" option available with the free version of Boom.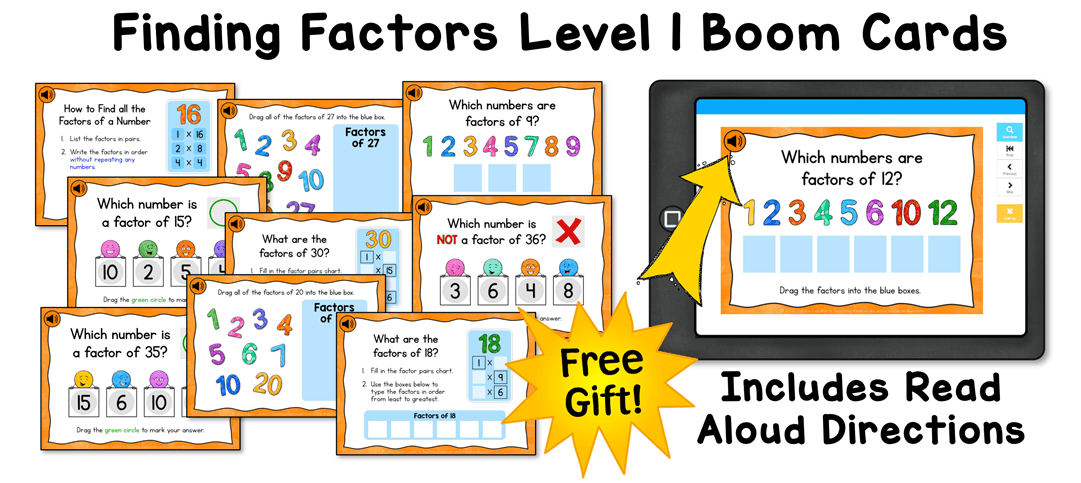 Wendy's Gift – Analog Clock Clip Art
Wendy has her own TpT store, Digital Classroom Clipart, and she creates high-quality digital artwork for educators. She's giving away Analog Clock Clip Art which is one of the products in her Measurement Clip Art Mega Bundle. This set includes 87 transparent PNG images in color and white-filled line art. The set includes a variety of clock frames in 8 different colors. Each frame can be customized by choosing one of 8 face styles, 8 number styles, and 5 clock hand styles. The hands can be positioned and rotated to display any time desired! You can add these digital images to almost any type of resource you create, including assessments, directions for activities, Google Slides or PowerPoint presentations, and much more.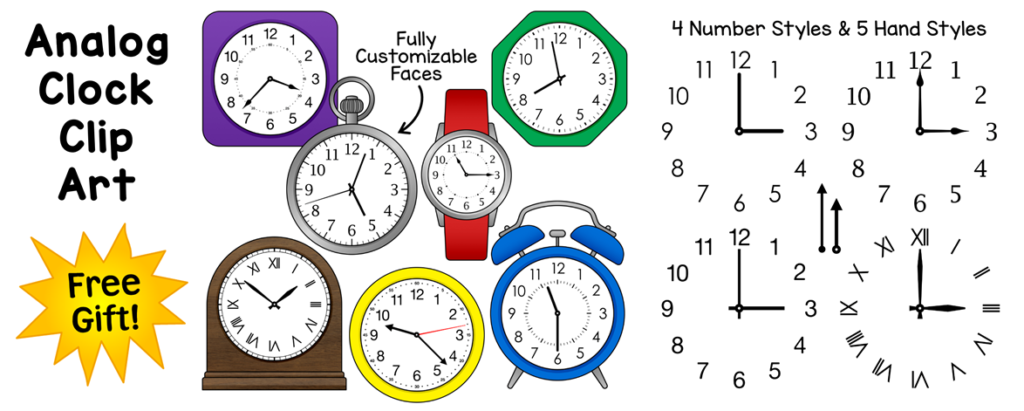 How to Get All Three Free Gifts
If you'd these free gifts, sign up here no later than Monday, November 20th, and I'll email them to you.  After you submit your request, you should receive an email from me within a few minutes. If you don't, try again with a different email address. Sometimes schools block emails from outsiders, so you may want to sign up with your personal email address.

How to Enter My $25 Gift Card Giveaway
To enter my $25 TpT gift card giveaway, follow the steps below and fill out the Rafflecopter Entry form no later than midnight on Monday, November 20th. A winner will be randomly selected and notified by email on Tuesday.
Share about what YOU are thankful for.
Click over to the Sharing Our Blessings post on my Teaching Resources Facebook page and share about your own blessings. If you prefer not to share on Facebook, you can post a comment here on the blog, share on social media, or just tell a friend or family member what you're thankful for.
Share this blog hop with other educators.
Promote the Sharing Our Blessings Blog Hop to other educators via email or social media. For example, if you received an email announcement from me about this event, you can forward it to your colleagues. You can also share my Facebook announcement with your friends or share this blog post with someone in a text message.
Enter the Rafflecopter Giveaway.
The final step is filling out the Rafflecopter entry form below.
More Free Products and More Chances to Win
Ready to visit the other teacher blogs and enter their giveaways? Click the images below to get started. I feel so blessed to be able to collaborate with these amazing bloggers, and you'll understand why when you visit their blogs! (Note: If you aren't able to see the images below and you use an ad-blocker, disable the ad blocker temporarily.)
You are invited to the Inlinkz link party!