Making the Social Studies and Literacy Connection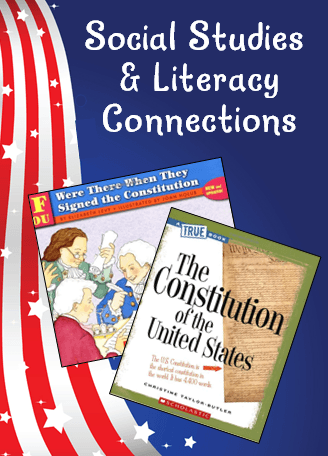 September 17th is Constitution Day, and it's a great time to integrate social studies into your literacy lessons. I discovered two outstanding informational text books to read and discuss with your students, and I couldn't resist creating some freebies to go with them! Both books are perfect for upper elementary students, and if you only have one copy of each book, you can read it aloud and show the pages so your students can follow along. If you don't have these books now, you can click the book covers below to order them from Amazon.com. Then use the activities later in the year when you are studying the US government or the Constitution. You'll find these freebies in my Constitution Day freebie on TpT during September and on my Social Studies page on Teaching Resources all year round.
What's the Truth? (Sorting Activity)
Author: Christine
Taylor-Butler
The Constitution of the United States is a part of the Scholastic "True Book" series, and it's an excellent informational text for upper elementary students. What's the Truth? is a hands-on sorting activity to stimulate thinking before you read the book to your students. Print one set of cards per team, and ask team members to cut the cards apart and stack them in the middle of the team.
Here's what to do:
Before you read the book, ask students in teams to take turns picking up a card, reading it aloud, and discussing whether
or not they think the statement is true or false.
As they decide if each statement is true or false, the card is placed into one of two piles accordingly.
Optional: Have team members write a T or an F on the back of each card for future reference.
As you read the book, stop from time to time and ask your students to discuss what you've read so far. If you mentioned a concept that was on one of the cards, they may check to see if they classified it correctly.
After you finish reading the book, review all the statements to be sure everyone has the correct answer
Constitution Discussion Questions
If You Were There When They Signed the Constitution is a longer book and will take several days to read. I've created a set of Constitution Discussion Questions that you can use when you finish reading the book or where appropriate during the book. Because the questions are quite challenging, I suggest using the Talking Sticks discussion strategy in small guided reading groups or as a whole class.
The book is most appropriate for upper elementary students, but you may be able to use it with middle school students as well. You'll need to preview the book to decide. The discussion questions are fairly generic and can be used with any in-depth discussion or study of the Constitution.
After you've discussed all of them as a class, you may want to have your students choose one to write about in a journal entry.
Where to Find These Free Resources
These sorting cards and discussion cards are available for free in several places. During the month of September, you can download them from my TpT when you click over to my free 
Constitution Day Literacy Lessons
. You can also find them on the
Social Studies page
on Teaching Resources. Additional activities on that page include a Branches of Government sorting activity, a cooperative learning lesson to learn the meaning of the Preamble, and a printable you can use to create your own Classroom Bill of Rights.
With limited time in the elementary school day, it's important to be able to sneak in a little social studies with your literacy lessons. These activities can be used on Constitution Day or any time when your class is studying U.S. Government or the Constitution. What are some ways that you connect social studies and literature in your classroom?