Awesome Facebook Group for Elementary Educators!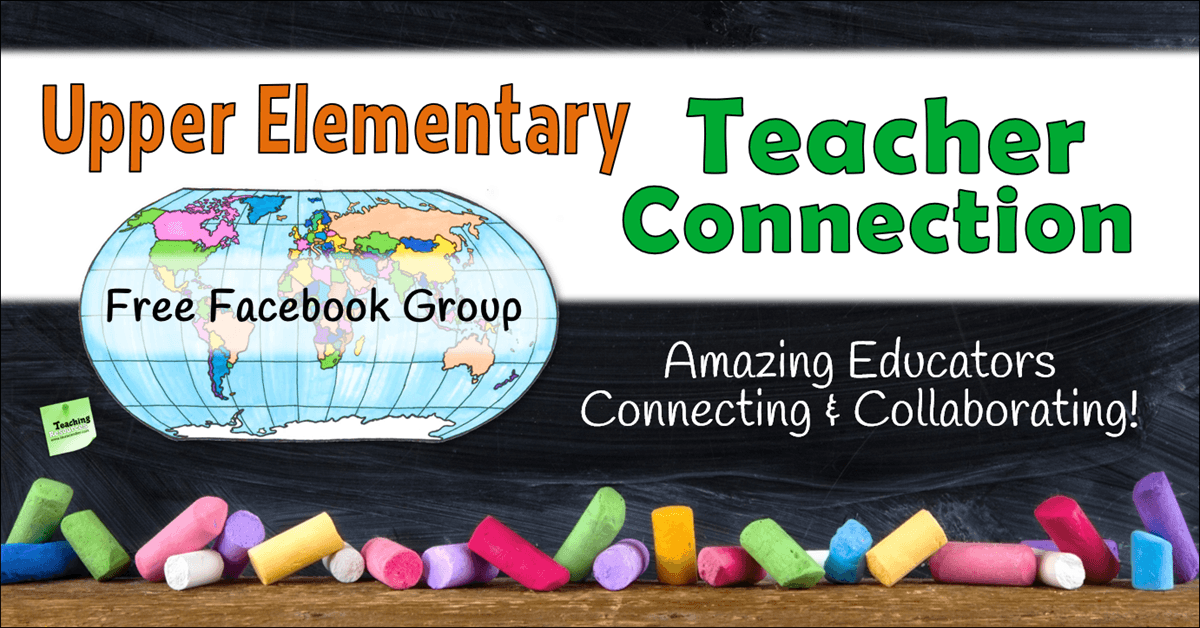 If you're an upper elementary teacher who loves what you do, consider joining my private Facebook group, the Upper Elementary Teacher Connection. It's a virtual meeting room where teachers of students in grades 2 through 6 can connect and collaborate to share their passion for teaching.
Group members discuss active engagement strategies, share innovative instructional approaches, help each other find curriculum resources, give feedback on lesson ideas, etc. Some of the topics we discuss include:
Cooperative learning lesson ideas and management strategies
How to implement reading workshop, literature circles, or literacy centers
How to implement math stations, how use math games effectively, guided math strategies, etc.
Collaborative projects and activities using technology, including Google Classroom, Skype, student blogging, QR codes, Plickers, STEM projects, and more!
Hands-on lesson ideas and management tips
How to obtain grants and funding through DonorsChoose.org and other sources

How to Join the Upper Elementary Teacher Connection
First, fill out the online Google Doc application form.
Next, click over to the Upper Elementary Teacher Connection Facebook group and click the Join button at the top.
I do read all applications before adding anyone, so it might be a few days before you're added. Be patient with me, please!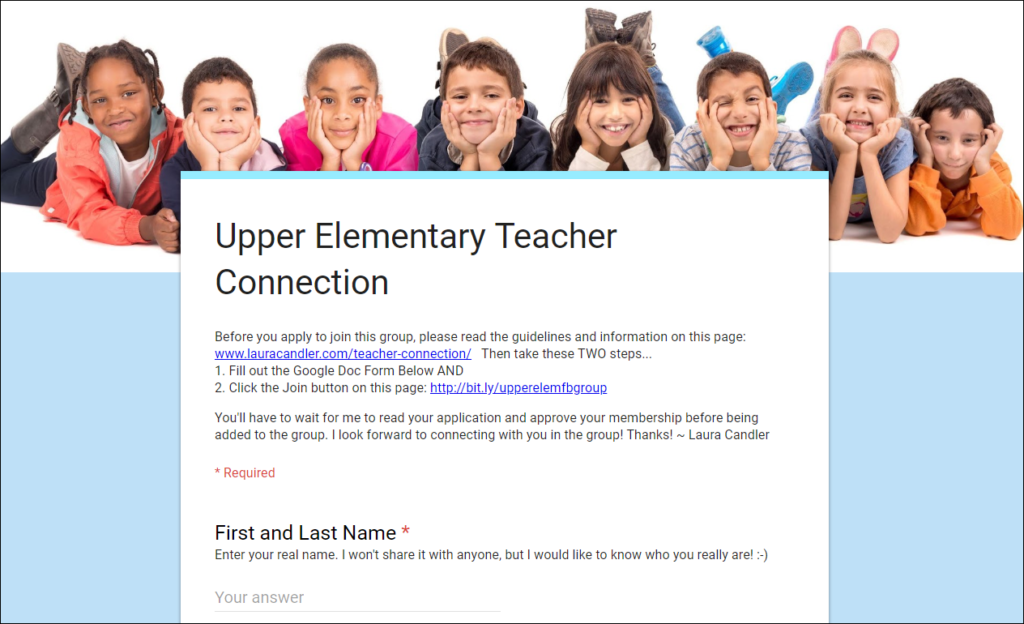 Note: Due to potential conflicts of interest, this group is not open to teachers who create and sell teaching resources. Sorry!
Upper Elementary Teacher Connection Guidelines
After you become a member, you'll see Upper Elementary Teacher Connection in the left sidebar on Facebook. Click the link to enter the group, and read some of the discussions. If you feel comfortable doing so, post a message to introduce yourself.
Check your notification settings for the group. At first you might want to receive all notifications. You can always turn them off later if they become annoying.
Feel free to share lesson ideas, activities, and teaching strategies that are working for you, but do not post links to products from other TpT sellers.
Be sure you have permission to share any documents that you upload to the group. If you created the document yourself, include a credit line on each page to show that you created it. Obviously, it's not okay to share teaching products that you purchased, but even if you obtained something for free, please don't upload it to the group unless you have permission to share.
If you are using one of my resources (freebie, product, teaching strategy, etc.), I would love to hear about your experiences. I would especially love it if you would take pictures during the lesson and upload them to the group, but be sure you have permission from parents to share photos online.
The Upper Elementary Teacher Connection is not a place to vent about problems. Instead, it's a place where educators can challenge themselves and take their teaching to the next level! It's fine to share a difficult situation and ask for advice about how to handle it, but please phrase your request in a way that shows you aren't just complaining, you're looking for ideas and solutions.
Above all, please be positive and supportive in your interactions with others. You might not agree with all members, but refrain from making judgmental comments or posting comments that are not respectful in their tone. If you see another member posting questionable content, please tag me in a comment so I'll be notified and can remove it or email the member.