6 Ways to Rekindle Your Passion for Teaching Before You Burn Out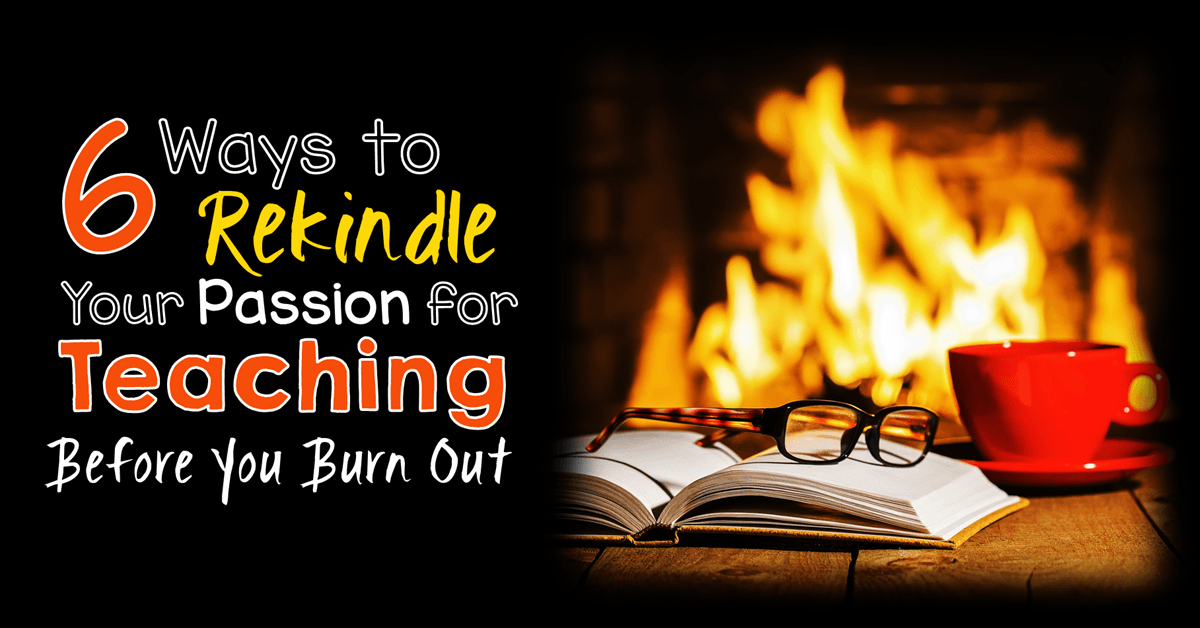 No matter how much you love teaching, it's easy to get to the point of burnout before you realize it. One minute you love your job, and the next you're feeling so overwhelmed that you wonder if you can make it to the end of the day, let alone the end of the school year. Everyone feels this way from time to time, but if you continue to feel discouraged day after day, it's time for a change. Ignore these signs, and you could become another teacher burnout statistic.
The key to overcoming teacher burnout is to dig into your feelings and figure out what's wrong so you can do something about it. If you recognize the signs of burnout early, you can rekindle your passion for teaching before it's too late. I speak from personal experience, because during my 30 years of teaching, there were times when I wondered how much longer I could keep going. But each time this happened, I was able to figure out the source of my stress and overcome it. As a result, my passion for teaching would flare up again and burn stronger than ever!
Recognizing the signs of burnout isn't difficult if you take a moment to slow down and you look inside. If you struggle to find any joy in teaching because you are exhausted, overwhelmed, and overworked, you're on the edge of burnout. If you feel irritable and grumpy all the time, and you can't seem to focus your energy on anything positive, it's time for a change.
Studies point to a number of factors that can lead to teacher burnout, including lack of support, student behavior problems, lack of adequate training for the demands of the job, and plain old boredom. I would also add the inability to find work/life balance. When you consistently put everyone else's needs before your own, you end up feeling resentful and even angry because there's never any time left over for you.
Fortunately, there are many ways to combat teacher burnout before you become a statistic. Here are 6 strategies that kept me from burning out and enabled me to love teaching until my last day. You'll probably realize that you're already doing many of these things, but you if you even discover one new strategy that resonates with you, you may find that it makes a huge difference in your outlook.

1. Start taking care of YOU.
The most important thing you can do is to make yourself a priority, and decide you'll do whatever it takes to start taking care of you! It's easy to feel burned out if you never have time to exercise, cook a healthy meal, read a book for pleasure, or spend time doing activities that you enjoy.
If you're wondering how to accomplish this when your day is already jam-packed and you come home from work each day exhausted, I have some good news! My friend Angela Watson of the Cornerstone for Teachers had just released a free mini course called Goodbye, Teacher Tired: 5 Days to Doing Fewer Things Better that will help you figure out how to prioritize your time. Angela makes the process sooo easy, too! When you sign up, you'll get a welcome email that explains how to get started, and it includes an option to access all 5 days of content on one web page. Sign up for that option if you want the course to be self-paced.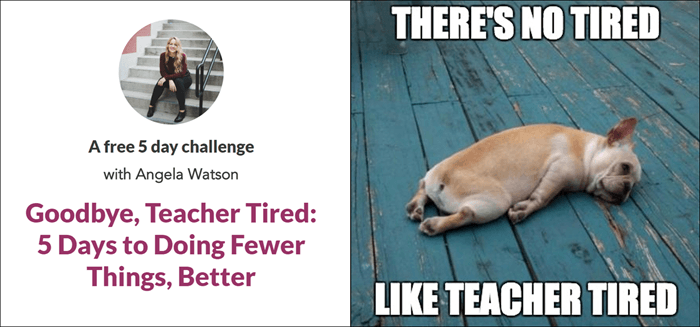 After you complete the 5-day challenge, you'll be saying goodbye to "teacher tired" and hello to "teacher energized!" That's when you'll be able to start making yourself a priority!
2. Connect and collaborate with others who love teaching.
If you feel isolated and unsupported, actively seek out your "tribe," a place where you can connect with like-minded teachers who want to share ideas. Facebook makes this incredibly easy because there are dozens of teacher Facebook groups where you can collaborate, get advice, and offer support to others. Be sure to join groups that have a positive vibe, where teachers are sharing ideas and supporting each other rather than venting about their problems. If you end up in a group where the majority of the posts have a negative tone, leave the group before you get sucked into those discussions!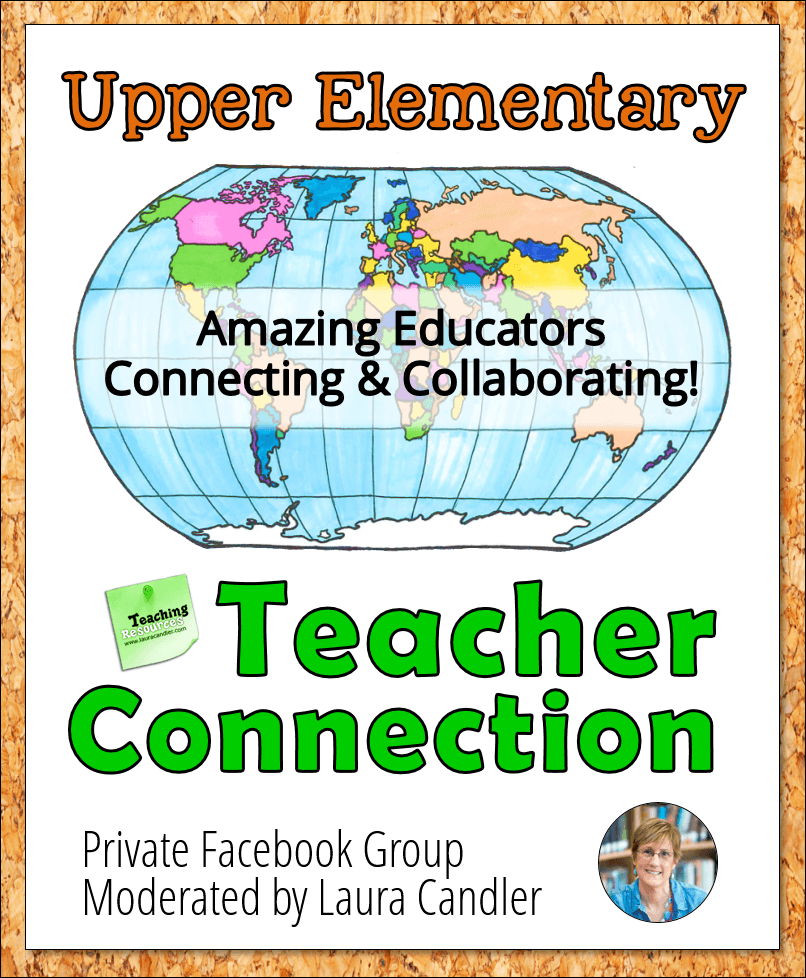 I loved collaborating with other educators, and I was inspired by many fabulous teachers during my teaching career. After Facebook rolled out groups,  I created several groups for teachers, including the Upper Elementary Teacher Connection. This group is a place where teachers in grades 2 through 6 can connect and with each other to share their passion for teaching. Group members discuss active engagement strategies, share innovative instructional approaches, help each other find curriculum resources, ask advice about situations they're facing at school, and so on. If you're interested in joining, click over to my Upper Elementary Teacher Connection blog post to apply for membership. It's free, but you do have to fill out a Google Doc form before you can be added to the group.
3. Transform your classroom into a place you love to be!
One of the most stressful aspects of being a teacher is the sheer number of hours spent in a classroom with 25 or 30 children who seem to test your limits constantly. I used to feel like I was constantly battling my students to assert myself and gain control in the classroom. I left school every day exhausted, and I had to take a nap before I could do anything else!
Honestly, I was starting to wonder how much longer I could stay in the classroom. The turning point came when my district started providing great professional development, and I spent a week in a Kagan cooperative learning workshop. I was trained in the structural approach to cooperative learning, and I also learned classroom management strategies that helped me implement the techniques effectively. What a game changer! My classroom was never the same!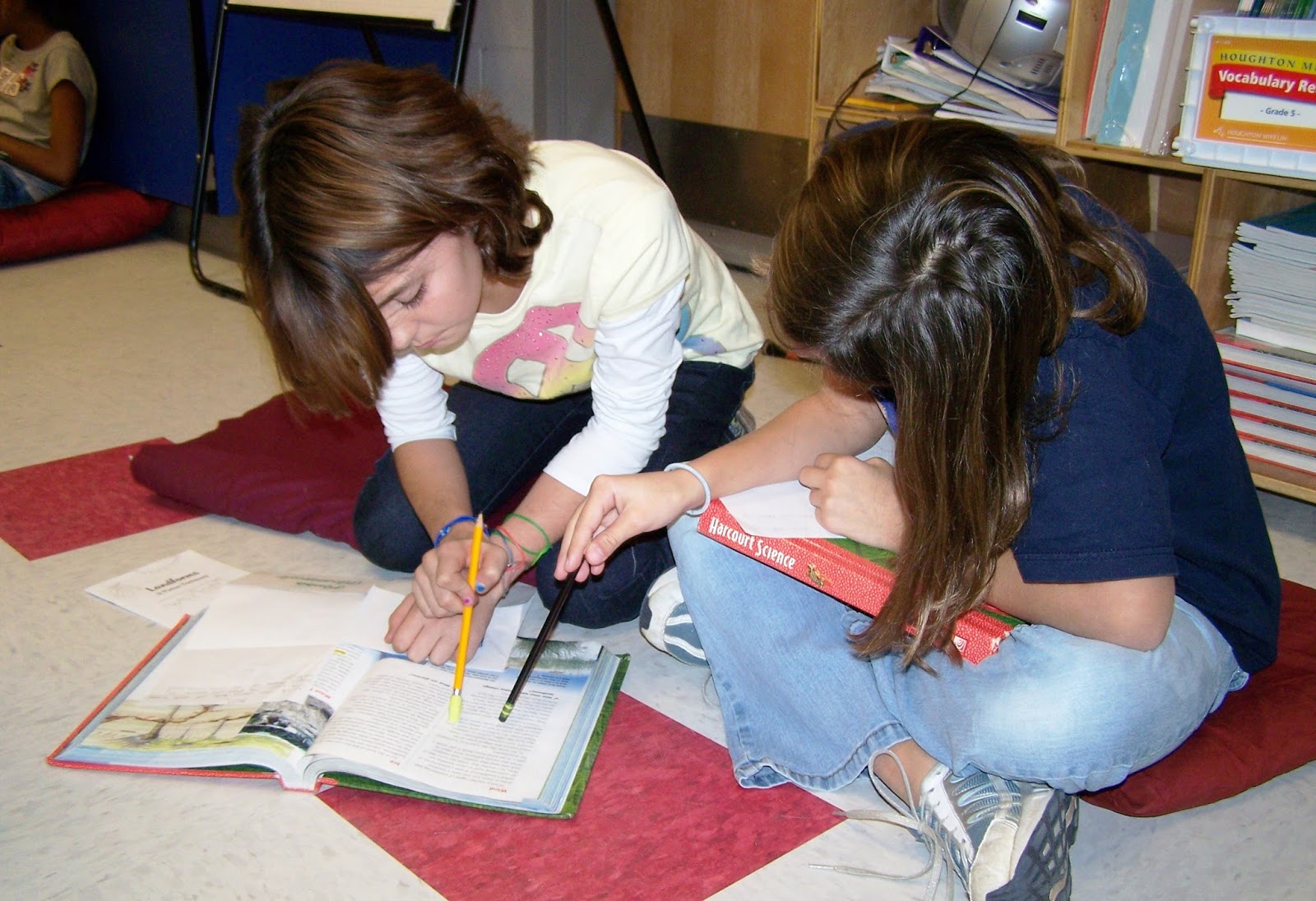 I began using cooperative learning strategies in every subject area, and I taught social skill lessons to help my students learn to get along with others. Instead of working in isolation, struggling with the content on their own, they worked with partners or in teams, talking about what they were learning and engaging with the content in meaningful ways.
What a different this made, not only to my students who were happier and learning more, but also to me personally. Instead of dragging myself to school in the morning, I was excited and full of energy, ready to try new strategies with my students. My classroom became a place I loved to be, and my students loved to be there with me!
This experience taught me about the importance of creating a caring classroom environment and using active engagement strategies. When you make learning both challenging and fun, kids don't have time to think about misbehaving.
4. Learn to work smarter, not harder.
We've all heard this advice, but what does it really mean? Until a few years ago, I had never heard anyone explain exactly HOW teachers are supposed to work smarter and not harder. Anyone who lives with a teacher knows that they work insane numbers of hours each week, and they never get everything done! The "normal" 40 hour work week sounds like an impossible dream to a teacher who's working 60 or 70 hours a week.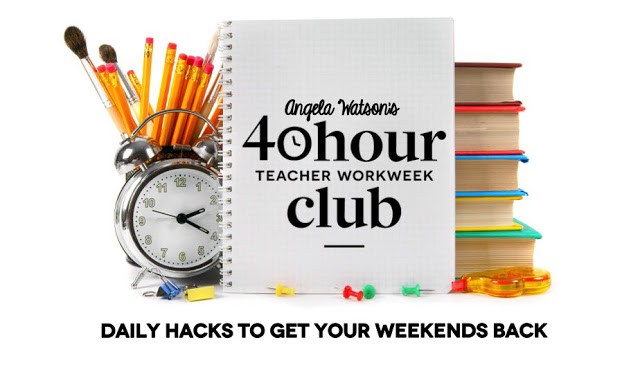 I loved teaching, but I will be the first to admit that I worked far too many hours. It's a wonder that I didn't burn out because I never could figure out how to "work smarter" and not harder. But a few years ago, I found out that it's possible to work less and still be a great teacher. I learned that Angela Watson, who will be presenting the webinar I mentioned earlier, taught 3rd grade for many years, and she was able to work a 40 hour teacher workweek. You can tell from Angela's blog that she was a great teacher, so I was a bit skeptical about her claim that she only worked 40 hours a week.
Then I became a member of her 40 Hour Teacher Workweek Club and started learning all of her secrets! Each week Angela sends an email to club members that's packed with productivity strategies, and she also has a Facebook group where members can get support with implementing the strategies. Angela doesn't promise that everyone will be able to reduce their workweek to 40 hours, but data she's collected shows that club members are able to shave an average of 1 hours off every week. That's over 40 hours a month saved just by learning to be more productive!
The 40 Hour Teacher Workweek Club is only open twice a year to new members. Click over to Angela's website now and sign up to get a reminder when it opens.
5. Never stop learning, growing, and trying new strategies.
One reason I loved teaching was that I was always learning and growing. I loved figuring out new ways to teach a concept more effectively and creating new resources to help my kids become self-motivated learners. Every school year was different, bringing new challenges and new opportunities for growth. I couldn't imagine pulling out the same set of lesson plans and teaching from them every year… how boring! Students come to us with different needs each year, technology is always changing, and brain research continues to provide us with more evidence about how we learn best. How could I possibly teach from last year's lesson plans?
If you realize you're bored because you've been teaching the same thing, year after year, it's time for a change. Why not request a move to a different grade level or teach a different subject? Try a new program with your students, like reading workshop, literature circles, or math stations. Explore a new online tool like Plickers or Kahoot, and make a plan for implementing it in your classroom. Join teacher Facebook groups where you can ask for ideas and advice about new strategies and technologies. How about signing up to watch some of my webinars for teachers? You'll soon feel rejuvenated and ready for a new year!
6. Remember why you became a teacher, and stay true to your purpose. 
If you're like most elementary teachers, you became a teacher because you wanted to work with children and make a difference. But in today's current educational climate, it's easy to lose sight of your purpose when it feels like teaching is more about following district mandates than meeting student needs.
Sometimes the best thing to do is to shut your door and do what you do best… teach! Figure out exactly what you are required to do, and do what's absolutely necessary, but don't be afraid to change things up a bit as long if you truly believe you're doing what's best for your kids. Carve out time for passion projects, reading aloud, class meetings, and learning games. Don't do anything that will get you fired, of course, but you'll find that there are many ways to stay true to your purpose and do what's right for your students.
If you encounter resistance from your administration, even when your students are happy and achieving at high levels, it might be time to seek out a new school family. I remember two times when I felt unappreciated and unsupported by the administration, and it seemed like every idea was met with resistance. I was miserable, and it had nothing to do with my students and their behaviors. In both situations, I decided at the end of the year that it was time to move on. I was so much happier in my new schools that I never regretted those decisions.
Being a teacher isn't the easiest profession, but it's definitely one of the most rewarding. If you recognize the signs of burnout in yourself and take action NOW, you can rekindle your passion for teaching and find joy again in the profession you chose!
Disclaimer: I'm an affiliate of Angela's 40 HTW Club which means I earn a commission each time someone purchases the course after clicking on my affiliate link. However, I would never recommend a course unless I was convinced it was absolutely amazing! I can assure you that if you're willing to do the work, your results will be amazing, even life-changing!